Just a quick note to fill y'all in on a little 'secret' … I …um… well… I am having root canals and crowns put in … a lot of them! sigh! ouch … both physically and $$ (hee hee) ! This will affect my posts by hours or days depending on the level of work being done that day! Since ya all know my little dark secret… I hope you understand if I am not exactly timely in my posts … or my hoppin around visiting y'all! I had some crown prep done this morning… and they are sending me for a second (unexpected root canal today… sigh!) so I am leaving up my love story another day… hoping this one goes better than last week and I will be right as rain tomorrow! 😉
MamaM. at My Little Life is hosting this Brilliant Love Extravaganza! All week she will have a love themed question for us to McLinky up to! Its all about LOVE baby!!  Don't ya just love a good love story!??   So hop on over to her blog and join in on the fun!  After you read my quirky, slightly comical ramblings of course!!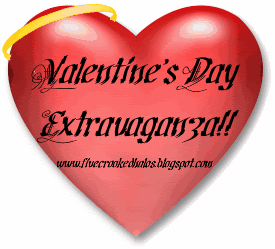 Photobucket" />
How I met the Love of My life!?
My hubby is a coder.  He loves code.  He is a computer genius.  For this he gets paid. (and He really comes in handy when you are not so techy yourself!)   Mr. McGenius I like to call him.  But… What I love about Mr.McGenius ~ he can make just about anyone he meets laugh!  He quietly captures the most unsuspecting person into laughing before they know what hit them.   Have I mentioned before that I LOVE to laugh! Laughing is Wonderful!  Food for My soul! I love saying "my cheeks hurt"… I love the uncontrollable feeling, I love wiping tears from my eyes after a good gut belly laugh!  OK… ok…
How did I met Mr. McFunny anyway.  =)
A few friends and I were going to a Passover Meal at church.  My roomy invited friends from University in BC, Canada.  They came ~ a little late and met us there.  The Passover meal is a beautiful representation of the meal containing symbolic foods used by Jews during the Passover Seder.  It has a  special significance to the retelling of the story of the exodus from Egypt, which is the focus of this ritual meal.  It is a beautiful way to understand this part of Biblical History … this church hosted the meal every year at Passover time in Israel.  We were all singles in our 20's… taking this special event seriously.  This was not our first visit ~ we knew we need to listen to the 'leader' and follow along.  There were about 100 people at the dinner I think.  So …in come our friends from BC and their guest "Mr. McFunny".  They sit down, try to do quiet introductions and then Mr. McFunny (who is sitting in front of me) picks up his water glass …which has had time to 'sweat' a little … it slips from his fingers, he fumbles the glass just like a football, the glass hits the edge of the table and the whole thing goes sploosh in his lap.  Our mouths hanging open, waiting for this poor 'new' guy to recover from this embarrassing moment… nope… not Mr.McFunny… He leans over and quietly but cleverly tells us "it is a good thing this is a long dinner so his lap will have time to dry off before anyone notices he has wet pants!"  Then the laughing started… oh the laughing… cheeks hurting, gut belly, loud, I cannot stop laughing… laughing.   I really could not tell you another word he said that night… just that he had us all in fits of laughter the rest of that dinner!   Remember the 'serious' dinner where we are supposed to be paying attention to the leader explain all the symbolism of each food on the plate??   I LOVE to laugh… and though we felt horrible for being so disruptive … so childish ( and fun!)… we could not help ourselves… everything that came out of his mouth was so darn funny!  We got looks and glares and we were shushed… but on we laughed.  Shameful singles!  After dinner we all headed over to a friends house … 20 or so of us… and the laughter carried on all night.  Mr. McFunny was SO funny!
The next day our BC friends and Mr. McFunny left to go camping on the Oregon coast … but planned to quickly stop in on their way home from camping.  My roomates and I come up with this plan to introduce him to our 'other' funny friend… surely he and she would hit it off… as they are both witty and funny!  Monday arrives and we have successfully planned for her to be at our house when they 'swing' in… hm… Never Never try to match 2 funny people up… never.  Lets just say it didn't go so well.  They left and we did not see nor hear about Mr. McFunny for 3 years??  ish?  We saw our BC friends… but Mr.McFunny had become a memory of that funny night.
Fast forward 3 years…. to the long weekend in January 1997.   (Mr. McFunny and I have a history of 'memories' on long weekends… odd really)
I was in a bit of a funk… a long-ish lasting… sad funk.   I was having a giant pity party for myself and about a 'friendship' that never turned romantic.  My roommates did not know what to do with me… as I was usually the happy go lucky kinda gal… so my wonderful roomy decided to 'take me out of town' and  'get me away from it all'… of course she picks our BC friends to go visit!  and she had this 'brilliant' idea of asking them to invite Mr.McFunny over to make her sad roomie laugh and forget all her troubles… (that would be me… the sad pathetic roomie!)  Since this story is getting ridiculously long… Let's just say… Mr. McFunny made me laugh… and laugh… and laugh… and he left that night with a smitten feeling.
As God would have it… we visited BC for unusual circumstances in February, March and April… and oddly enough Mr. McSmitten was there every time!  oops… I mean Mr. McFunny.  You see he was in a bible study with our friends and each time he learned I was going to be around… he 'showed' up…   I am so glad he did!  =)
In late March or early April he bravely asked for my email… thus it began… 'getting to know you… getting to know all about you"  ~  Every night and every morning "You've Got Mail"… it was addicting… and besides.. he made me laugh!  and we all know I LOVE to laugh!  The rest is crazy love… and that my friends…  is how Mr. McFunny won my heart… by making me laugh!
I told ya ~ I love to laugh!!!
to be continued… with… tomorrows question… "My Favorite Date… with Mr. McFunny"
y'all come back now … y' hear!
Just Jenn~
Click here to enter your link and view the entire list of entered links…