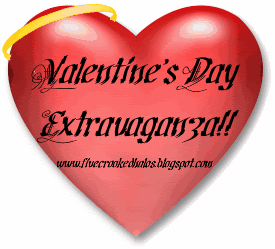 The Final Hour is upon us… this wonderful Valentines Day Extravaganza is nearly at its end… (sniff) !  Be Sure to Click on the Big Red Heart and go Thank MamaM. for This Fun Filled Week of Love!  Please stay and finish laughing at … I mean reading my post!!
Good News!!  We Can Still Seize Today!   Though I am a busy bee today ( & yesterday)  preparing for a sweet little sewing party we are having today … (It will be a fun upcoming post!)  So, though I am busy just now… I am hoping to blog hop the McLinky's for the weekend tomorrow to see all your wonderful pictures and 10 Things you love about your loves! Much to do… So without further A-Doo (yep I spell that wrong… I am funny that way)… without further A-Doo… .
~ 10 Wonderful Things I Love About My Love ~
1. My Love Wakes Me Every Morning!
2. My Love Makes Me Smile Every Day!
3. My love is Sweet!
4. My Love is Hot ~  (well a little luke warm at times … hee hee)
5. My Love is a Little Nutty at Times
6. My Love Always Cheers Me Up When My Day Isn't Going So Well
7. My Love Smells Amazing!
8. My Love Can Be a Little Steamy at Times!
9. My Love Never Fails Me!
10. Sometimes My Love even Has a Heart! (hm…)
Since I LOVE my Love SO much… I Haveta post My Favorite picture of My Love!!
I feel a little bad foolin' ya like that!  Sometimes I just can't help myself!  Isn't My First True Love Wonderful!  It even 'has a heart'!   =)   Confession:  (oh the confessions)
My Real True Love … Mr. McFunny… Gave Me this Crazy Idea To Say Things I Love about Coffee… and oddly enough most of them apply to how I feel about Mr. McFunny!  I hope you are laughing or smiling as much as we were writing this post!
Happy Heart Day!!  See y'all later …
if I am not too tired from 5 little girls, 2 little boys and the crazy fun day we have planned!
(Trust Me … They will all be in Bed by 10 pm!  ha ha! )
Just Jenn~
Click here to enter your link and view the entire list of entered links…