All Girls Were Greeted by this Sweet Sign My Little Girl Made!
5 little girls
1 crazy mom
some sewing supplies
100   "feelie hearts"  for a Children's Hospital!!
A good friend of mine is the Coordinator for a Grieving Center at a nearby Children's Hospital. They comfort families who have lost a loved one. Every summer they host a camp for children who have lost a loved one. For the past 2 years we have hosted a little party and tied those fringed fleece blankets for that camp. This year The Camp received a large donation of those blankets ~ so we decided to sew pocket sized "feelie hearts" they give to their clients every day. Though it was a little crazy ~ I enjoyed every chaotic minute of it and I think the girls did too!! My favorite part was seeing their proud little faces as they finished each heart! To protect the 'identity of her friends' I am being selective about the pics that I share! But… Tammy's Two Cents gave me permission to post her beautiful little girl… you might recognize her from Tammy's posts!! =)
The party started at 6 pm on Valentines Day… they little ladies slept over night … oh the giggles… but I did manage to get them to 'sleep' by 11:15?? =) The next morning after the ladies ate muffins, strawberries and milk… they set to work!! Stuffing, stitching and even hand sewing a few hearts …so much love went into their work! They were all motivated to stuff and stitch 20 hearts each!! Goals were barely met before mom's came to pick up… but they did it!!! Way to Go little Ladies!! I was so exhausted … but proud and high on the love these little ladies put into their work!! See What they did!!!
Not only was I proud… but they were too!! =)
We will definitely do this again!!! Some of these little ladies are in Girl Scouts… My little girl included. She has decided to do this again next year on a wee bit larger scale for her Big Bronze Award Project… (you scout mommy's might know what that is!) It is a community focused project to help our little scouts learn to be a part of the community! I can't think of a better project!! Mommy is Proud of You Abby!!!!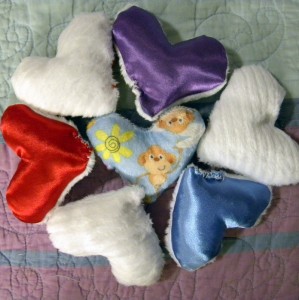 The Next Night….
All the little ladies were gone…
kids were in bed….
"Merlin Struck"
… its ok… we only 'lost' ONE heart!!! =)
Naughty Naughty Puppy!
Funny Funny Puppy…
I laughed So hard I cried … I barely got the photos you are about to see… =) must always remember to snap and shoot before you loose the moment!!
Oh Merlin !!!
PS… My little girl is pictured standing next to the motivation chart!

Friday is my 'Family Photo'  day… and I realize these wonderful ladies From the Shultz and Peterson Families have a family McLinky day…  so I am linking up.. except I can't seem to grab the McLinky… am I linked and  I have their button… click below and read their stories and even Link up your own if you like!
It is all about family!!