She will bake….
First she will find a recipe that she is craving that minute
and she will cream butter and sugar together…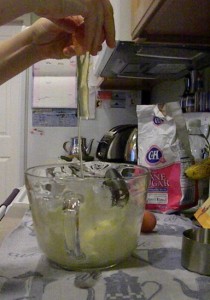 then she will crack an egg into it….
while her lovely 9 year old snaps a picture
(in action mode of course)
Then she will sift flour into the bowl…
and accidentally get some on the handle ….
of her secret baking weapon  =)
works better than a spoon!
She might change one ingredient….
because her kids don't love marmalade …
blueberries are nice in muffins…
sorry PW!
then she will put vinegar in milk…
since she doesn't have butter milk…
and pour it in…
while her brilliant 9 year old snaps another action shot!
the mom likes the daughter helping take the action shots…
The mom pulls out her Wilton baking cups
since she doesn't have a muffin tin…
and she uses PAM in them…
Then she fills the cups 1/2 full..
and places blueberries on top…
that look like eyes and a nose…
no room for a smile folks…
Her hand will look like this…
she might lick it before she washes it…
and resumes baking…
Then she will add more batter
and blueberries…
Since she has extra batter…
she will use the butter wrappers to grease a small cake pan…
She thinks she is pretty clever using those butter wrappers…
Then because the mom is silly…
she will make a happyface in the batter…
she does that sort of thing…
Remember the muffin post … (go here to see what I mean)
and those of you who were asking for the banana zucchini muffin mix…
should definitely click there
(after you comment here of course)!  =)
Then the mom will finish placing blueberries
and sugar on top the batter… yum!
The mom smells yummy muffins in the oven…
mmmmmmmmmmm…
A few minutes later …
the mom with the Pioneer Woman cookbook will give those tasty muffins to her young…
and they will eat breakfast.
happily.
Then the mom might take her daughter to school…
and her son to "uncle Peters" house
because he is like grandpa to her kids…
and She might…
Maybe…
Go Junk Shopping with "Auntie Margaret"…
after she clicks publish.
The mom might go by the name ~Jenn~ when she is not called Mommy…
the end.
~~~~~~~~~~~~~~~~~~~~~~~~~~~~~~~~~~~~~~~~~~~~~~~~~~~~
In honor of my giveaway ~  the Signed copy of The Pioneer Woman Cooks ~
I am going to post a recipe from her cookbook every day from now until the giveaway closes next Wed. at 12 Midnight Pacific Coast time!  =)
However, I am not going to reveal the measurements of her recipes!!
that would be rude… right?
I highly recommend you all go buy a copy… after you put your name in for my giveaway and wait to see if you win!!  =)
~~~~~~~~~~~~~~~~~~~~~~~~~~~~~~~~~~~~
the Junk store just called … I am late!