hold on a sec….
just need to draw a name out of the hat…
MERLIN!!!  ………
Abby and Sammy wanted to do that!!
Bad Dog!!
(sorry about the blurry picture… I wasn't exactly planning on taking that picture!!)
OK… now that I have gained control of my laughter!
The winner is……..
right there in Sammy's little fingers…
don't worry he is visually impaired…
and the papers are folded up ….
and he is still learning to read anyways…
not that he even CARES who wins!!
*cough*
so easily distracted I am…
ta da!
Wonder whose name is on that little piece of paper???
…………………………
Mommy he is trying to read it!!!
I am supposed to read it!!
Give it to me Sammy…
(keeping it real folks!)
um…
comment number 68…
Ta Da!!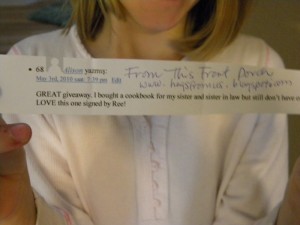 Congratulations Alison  @ From This Front Porch !!!
Lucky gal!!
To the rest of my fabulous readers ~  Sorry Charlie!  =)
Really I wish I could give all 74 of you that entered a book!  ~ but I can't!
Speaking of Charlie!  I love Charlie!!  PW's Basset Hound!
Ain't he just the cutest dog this side of the Mississippi?!!
Wait… then Merlin wouldn't be the cutest dog this side of the Mississippi!  =)
Oh anyway!     There ya go folks……..
The Lucky winner of My First Giveaway !!
It was a very very yummy week ~
and I am not going to open my PW Cookbook  again for a while…
well…   a couple hours anyway!!
WHAT !!?!!
I need NEED to make those Angel Sugar Cookies for my little Girl Scout today!
She is Leading the meeting today … on Pet Care!
She loves animals…  but she hates being the speaker…
Pray for her courage today!!  =)
Anyway ~
Snack is PW Angel Sugar Cookies cut into little dog bone shapes!
Hope the dough works with a cookie cutter!
What am I still doing here…… I have SO much to do!!
because when your little girl leads the meeting…
so do you.
=)
Is it Friday yet??
~~~~~~~~~~~~~~~~~~~~~~~~~~~~~~~~~~~~~~
sorry Sasha ~ Iny's Prune Cake isn't exactly super high on my cooking list!!  =)