Today
This seemingly sleepy well behaved (HA) dog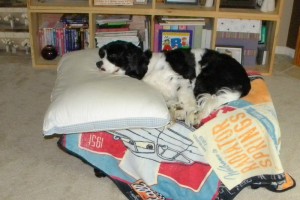 Is at the groomers!
ALL DAY!
I LOVE my new dog groomer!!
Found her early this summer!  Blessing!!  =)
So Today..  I am going to Bust and MOVE!
Ah.. that song takes me right back to my first year of college in 1989!  =)
*ahem*
anyway…
I am also Finally feeling MUCH better now…
I think?  =)
So I am going to get some a million MUCH needed things done!
it will be SO much easier ~ without my pesky lovable dog under foot
stealing TP  or chasing the cat or eating shoes or counter surfing
the who has been ON the kitchen table more than a few times this week!!!
too bad I wasn't in a funny enough mood to use my Broken Camera
to capture it when my curious food stealing dog was standing ON my table!!
Bad Dog Merlin!
So there you have it folks…
Not another Puppy Free Moment to Waist!
See ya all later in the day!
Jenn~
ps I was going to post first day of school pics… but given my camera is broken…
I used the neighbors camera so I could SEE what I was taking with the camera
so I am at her mercy as to when I can post those!!  =)  wink, wink Anna!