I grew up with Betty.
My sister is the keeper of our momma's 1970's edition of Betty's cookbook.
the old orange one we grew up using.
I wish I had a picture of it… must do that next time I am visiting my sister!
Betty … she taught me to bake.
Really.
Betty she KNOWS baking.
She does.
Really.
I still Love Betty.
Fast forward
*cough, cough*
nearly 40 years….
not that I was baking at birth… just sayin.
Anywho…
Now…in today's world…
Betty makes our lives a little easier,  quicker, convenient …
simple.
Cookie mixes.
Peanutbutter, sugar, chocolate chip…
Gingerbread!  yum.
Grab your ingredients:
Betty's Gingerbread cookie mix $1.50
Canned Pumpkin $1-3.oo (will make three  batches!!)
one egg white $. a dime a dozen
1/2 stick butter $.50 for Tillamook Butter (if you are a smart shopper)
cinnamon sugar $. free ~ it is already in the pantry
whole wheat flour $. free ~  hello…in the pantry
So ~ The package says to use one egg, 1 stick of butter and the mix.
Of Course… I did NOT follow the rules.  um… it is ME you are dealing with.
Before I tell you my fun new twist on this cookie.  I have been buying Betty's cookie mixes to keep on hand for a couple years now… we love them.  As is!!  Really!  They are great for those times when you need cookies fast!  =)
but…
As you know… I am a happy pumpkin baker this Fall…
Blah, blah, blah…
Here is MY twist on these already fabulous Gingerbread cookies!
Pumpkin Gingerbread Cookies

Soften the 1/2 of a  stick of butter
add a 1/2 cup of canned pumpkin
the egg white and whip them up!
then add the Cookie mix…
I like to use my pastry blender to mix the ingredients into dough … it is easy on the hands!  At this point the dough will be sticky… start adding whole wheat flour to the sticky mess and work it…  keep adding flour until you can roll it nicely… I should have measured out the flour as I added!!    just don't over do it, m'kay?  I am guessing it was less than 3/4 of a cup??   ha ha!
I rolled it a bit sticky… and well… that is a bit frustrating…
but anyway…This is when I pull out the cinnamon sugar…
and sprinkle it all over the rolled out dough.
Then and only then is the dough ready to cut into whatever shape
or shapes that put a sparkle in your eye…
keep rollin and sprinklin until your dough is gone.
see how those cookies look dusted with flour…
don't be fooled my friends.
Cinnamon Sugar!
Bake at 375 for 8 minutes and 33 seconds
or 9 minutes and 33 seconds.
Trust me … magic number that 33 seconds!
the later will make them a little bit crispier.
These cookies are a teeny tiny bit more heart healthy with the pumpkin, reduced butter, no yoke and added whole grain.
And they are DeeeeeeVine!!  🙂  Yum.
I made 2 batches and took them to our new bible study group…
HUGE hit!
Huge!
I think they love me now.
Huge Hit!
Its beginning to feel a lot like Christmas….
Oh… One warning …
they will ask for more.
Them. Those. The other ones.
they will ALL want MORE.  =)
Be Prepared!
These Cookies will make your life Lovely… for a short period of time!  =)
<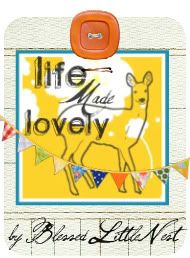 I am linking a little late… yesterdays post just didn't seem to fit!!  😉