Do y'all know what Grits are?
if you are from the South
I have no doubt in my mind you not only KNOW what Grits are
but you LOVE them too… right?!
If you are not from the South
Don't worry… You can buy Grits in your local grocery store.
in a very small section of the hot cereal isle.
Somewhere near the cream of wheat.
you know… near the oatmeal.
My roots are from the South.
North Carolina mostly.
I am not exactly close to my relatives over there.
its complicated.
and 3 or 4 visits in 40 years
does offer much time for relationship building!
anyway… given my roots…
Grits was a breakfast staple in our house when I was a kid.
I have lived most of my life in the Pacific Northwest.
We don't really "do" grits here in the PNW.
We meaning them… those… the other ones.
I love Grits!
and Every once in a while …
a girl with Southern Roots NEEDS Grits.
Buttery, salty, peppered Grits and Eggs.
Grits and Eggs… that is the magic right there.
There is a right way to make Grits…
according to Southern folk.
If y'all are from the South
please keep reading and correct me if I am wrong!
Dina??  =)  ha ha
OK … Lets begin.
Cook the Grits as directed on the box.
Boil salted water, stir in Grits, reduce heat, cover and cook for 5 minutes.
Stirring occasionally.
Less than 8 minutes people.
In that 8 minutes you need to fry and egg…
maybe grate some cheddar cheese,
DO make buttered toast
(whole wheat or whole grain if you are trying to be good)
and DO have your table set.
If you need bacon or sausage with your breakfast…
you will need to have that done ahead of time too…
Maybe keep em warm in the oven.
Because
You only have 8 minutes!!

Grits taste better hot…
right out of the pot… with warm buttered toast.
Just sayin… y'all gotta move fast!  ha ha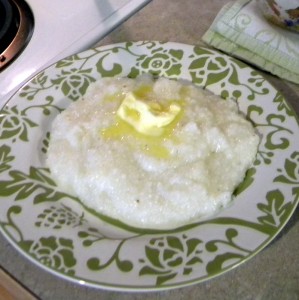 as soon as the Grits hit your plate
Quickly butter, salt and pepper …
(if your blood pressure is high… skip the salt!)
if you want cheese ~ put the cheese on right after the butter! =)
I like it with cheese… even if my cholesterol is high…
I don't eat them all that often!!  really it is fine!
Quick grab the egg
and slap that on there too…
and then place your fork and knife in this position
in the center of your plate
pushing down and sliding out on either side
This is hard to explain…
center, cut & slide to the edge, center, cut and slide to the edge, center, cut and slide… just keep slicing, just keep cutting…
center, slide, cut, center, slide, cut, center, slide, cut…. ha ha ha
Do this VERY Quickly… really! =)
I should have made y'all a video in this part…
only then my grits would have been cold.
it really is funny to watch a real Southern person do this…
Though I am good at it…
I am not a real Southern person
remember I grew up here in the PNW.
anyway… after a few center, slice, cut motions…
turn your plate half way…
and do it again… Quickly!
Now… SIT down
Put huge scope fulls of this mess on your buttered toast
and eat it that way until the toast is gone…
then eat the rest all by itself….
and if you are feeling like a heathen …
lick your plate when you are done.
yum.
if you are wondering
my kids don't eat Grits and eggs
It's complicated.
and wrong!
…………….
and then there are the spouses
when each of my sisters and I introduced our husbands to Grits…
we made sure they learned to cook and cut the grits right…
All 3 of their reactions were exactly the same…
laughing at us for the way you cut them up before eating them…
especially at Christmas time when we would all be in the same house
our spouses would Laugh at us all cutting our grits and eggs
in Rhythm … the same swift motions…
and then gobbling them up quickly while they were hot…
I will give them credit… it really IS funny!
Over time they learned… the quicker they moved …
the tastier their grits were b/c they weren't eating cold grits.
HA!!  Ha ha!  now we laugh at them!  =)
Grits are a Good Old Fashioned Southern Comfort food.
I encourage y'all to try Grits and Eggs.
Try them in the South if you can!
Do NOT order them at Denny's… TRUST me!
especially not in a Denny's somewhere on the Oregon Coast.
I know for a fact… it just ain't right to order them there.
~~~~
speaking of Grits.
Apparently Grits are becoming  popular as a side dish
I recently read Grits are being served in Seattle
at fancy restaurants by popular Chef's
They are  probably not for breakfast…
and are probably made with curry
or some other yummy spice that should NOT be eaten on Grits.
Just kiddin…
maybe I should google curry Grits and see if I am right!!
Maybe I should be willing to try Grits with Curry.
or NOT.
~~~~
moving on…
So speaking of Family…
we will be hanging out with my hubby's not so Southern Family
for the next 4 days.  Grits will probably not be served.
I will be taking a wee blogging break starting tomorrow.
Tonight ~ Wed. Night ~ I will be visiting some of y'all whilst I watch tv
specifically the Country Music Awards
yep… I listen to Country Music…sometimes.
In fact, Country Music Awards might have been my trigger for needing Grits!
maybe.  I could be right. you never know.
Anywho… I'll be back Sunday night!
Y'all Come Back now ~ y'hear!
Have a great weekend!
Jenn~
~~~~~~~~~~~~~~
P.S.  Kiss a Veteran Tomorrow!!!
or if you don't know one that you are comfortable kissin…
maybe just bless them with a Hug or a Smile
~~~~~~~~~~~~~~~~
Oh … and for those of you who love the PW…
she cooks Grits too!!
only I have not been able to bring myself to cook 'em the way she does…
it just seems wrong and unfaithful to cook them different than I was raised!!
y'know?!
~~~~~~~~~~~~~~~~~~

OH ~ and get this ~
Apparently Betty Crocker HAS a Pumpkin Spice Cookie mix!!
After all that trouble I caused!!  *cough*cough*
I have never seen it on the shelf…
I found them on Betty Crocker . com  today ~  sheesh!
I still love my twist on the Gingerbread cookie…
but I will seek and find those pumpkin spice ones and try them now…
I HAVE to!
Go Figure!