Hikes to the local hills with our sled in tow
A few Hours of sledding
in the beautiful white powdery snow
That filled our sled on each run down the hill
literally!
after nearly every run down the hill
the mama had to pull off her gloves
and dig Powdery  snow out of boots, pant legs, hoods… faces…  =)
48 hours + 8 inches  also =
Hours of digging
and digging
and digging ….out the center of this huge pile of snow
that I shoveled off the driveway the day before
because I am stupid, nuts, crazy, not smart a fun mom… =)
My offspring were very helpful
or… uh…
Entertaining?
while the mama broke her back dug out the Lodge   =)
I grew up using the shovel…. A LOT
now I have this weird attachment to it…
I can't explain it…
I really DO like to Dig… really!!
and well…
I just do things like this ….against my better judgment!
I have the same weird attachment to paint brushes…
and rollers… *insert happy grin* … oh never mind!
In She Goes!!!
Is there room for 2?
A little snug… but they both fit!
hm….
yep… Much more cozy for one!!
(nope I will not build another one… not me!!)
In Washington we do crazy things like this for the littles
because everyone needs a 48 hour Snow Lodge!!
it is a sickness… Snow…
you hate it…yet … You LOVE it… *sigh*
and because I am OUT OF MY MIND
I didn't stop there…
Sammy and I built up a Battle Fort too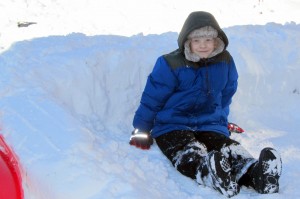 Hey… I am NOT the bad guy??!!
What is Wrong with him?!!
48 hours + 8 inches Also =
Back aches
When Will I EVER learn??   =)
So much work for 48 hours worth of fun!!
It   IS   worth it?    Right?? =)
Today Mr. McFun gets to "play"…
Apparently my body is not as young as my mind!!
I will be spending the weekend with my heating bags!!
What are you up to this weekend??   =)
Blessings~
Jenn
The  (not so smart) Shovel Queen