How on earth have we arrived at Half Past May already?
We have had a very busy Spring this year… lots of living… little blog posting… if you are a faithful visitor here… you may have noticed my significant drop in posts!!  SORRY!  Apparently, my blog break turned into a huge blog change!  *yikes*
Life is good…just busy lately… full of wonderful things… my babies are growing up SO MUCH lately!! **I can't handle the growing**!! … it aches my heart and makes me proud all at once…   =)
anyway… I just can't find the time right now to post regularly! *sigh*… once again I have only managed my Sunday Post!!
please ignore the fact that I am randomly ALL OVER THE PLACE this week!! Every thing is out of order! I like to run this Sunday to Saturday… **sigh**  =)
I will be better next week!  =)  I promise!  this weeks randomness reflects how crazy my week has been!
Sunday ~  128/365  ~  Give Me Flowers

once upon a time I told my new hubby not to buy me red roses for every holiday that men bring women roses for… b/c it feels too … well… driven… not from the heart…
I told him I would rather have flowers I love given to me randomly…
you know…"just because" he loves me…
but over the years… the flowers rarely came…
and I admit… I was disappointed…
after a few teary years…
(well… maybe not so much… maybe a few teary days in those years)
I realized Remembering details (like the kind of flowers I love)
is NOT my mans "gift"
neither is spontaneously picking me up gifts/flowers "just because"…
it is NOT his love language =)
you see folks…
I quickly realized…
it is not about the flowers
the Red Roses … or lilies…
its about the man behind the roses  =)
who daily shows me his love in SO many other beautiful ways
and sometimes…
he brings me red roses!!
(he really thought I was just photographing roses there… snicker snicker!)
sorry darlin!!
Saturday ~  134/ 365  ~ Visual Contrast (see… out of order!)

this little yellow balloon floated past my car today
I quickly grabbed my camera and snapped a couple shots
before it floated up up and over a building in less than a minute!
anyway… I played with them in Picasa… just for fun… =)
there is cool blue graffiti behind the one on the left
but I think I still like it better in black and white (mostly!) 😉
Do they count for Visual Contrast?
Friendship
(cheating=) … taken in April during my blog break… so they are in my 365!)

one of the most important friendships you can have in life
is a sibling…
I love that my babies are good friends!!
they fight a little  =)
But mostly … they enjoy each others company!
for this I am grateful!!  =)
I pray they will be there for each other for many many years!  =)
Monday ~  129/365 ~  Before and After

too much dock?
not enough light?
maybe a little blurry?
Ah… better!  Bolder… more Majestic, no?!  =)
I have a couple more before and after… just for fun…
and well… to add to my 365 project!
Wednesday ~  131/365
before…

rolling newspapers on water bottles…
for a seed project they are doing at Sammy's "school" for home schoolers…
After:
A Seed Starter kit!!  =)
One more FUN Before and After!!
hope y'all don't mind!
I am such a cheater this week!!
I told ya… busy busy busy… but fun stuff going on… (snicker snicker)!
Thursday  ~   132/365
BEFORE:
making "bones"  …
we are learning about the human body right now!
After:
kinda creepy … kinda cool!
This week we will lay them out on a poster
which names each bone…
fun fun!!
Friday ~ 133/365  ~  Dark (does a Dark color count?)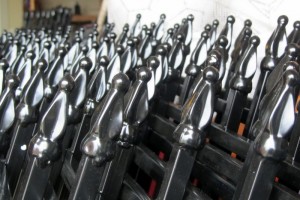 I am OVER THE MOON… excited about these dark beauties!!
any guesses as to what they are?  =)
I'll give you a clue….
they have something to do with this guy…
Tuesday ~  130/365 (out of order again… sorry!)
and being able to open my back door freely!
don't let the hat fool you… he is NOT human…
though he would like to think he is!
Hopefully that beautiful dark fence will be up next week…
and I can open my door and LET THE DOG OUT…
without bending over and walking across the yard to put him on a chain!
=)     BLISS!!!   =)
Hope ya'all have something blissful to look forward to this week too!!
Sometimes Bliss is found in simple things ~ you know?!  =)
Blessings~
Jenn
and